Home Latest Info Calendar of Events Photo Gallery Classifieds Dipstick Contacts Membership Club Info Links Regalia MG Sightings TMGC Forum
TMGC Regalia
---
NOTE: We all love to sport our MG octagon and TMGC "T" – our colors, as they say in the world of sports. However, buying and storing the vast array of various regalia items and clothing, all in different sizes, colors and styles is expensive and impractical. We just aren't going to stock these items like we used to.
Clothing items are readily and easily available from our vendors who have the high-resolution graphics and our permission to use them. If we get a pre-paid group interest on engraved or silk-screened items, we will order for that group.
Stitchworks – www.stitchworks.org – for all hats, shirts, jackets, blankets, etc., call Randi at 757-631-0300 after perusing her catalog on the web site. This is for embroidery only and she can do one or two or however many you want. She also has the screen-print logo, but orders of 12 or more are required.
Ackiss Engraving – If you need a nametag, they cost about $9, and you can call Doug directly at 757-588-0002 or let David know and he will order for you. Choose pin-back or magnet-back; same price. Doug also does our TMGC grille badges and can add threaded rods to the back if you want them. (We may do a bulk order of grille badges)
American Eagle Embroidery – Debbie at American Eagle does a very specific embroidery of the crest/logo of the town of Abingdon, England, where our MGs were born (shown below). The logo was legally purchased online and Debbie was paid to digitize it so she has the graphic design ready to embroider. Go to her web site - http://americaneagleembroidery.com/ - or call her at 757-673-8337 and let her know what item you would like embroidered. (Text color can be changed but town crest colors cannot)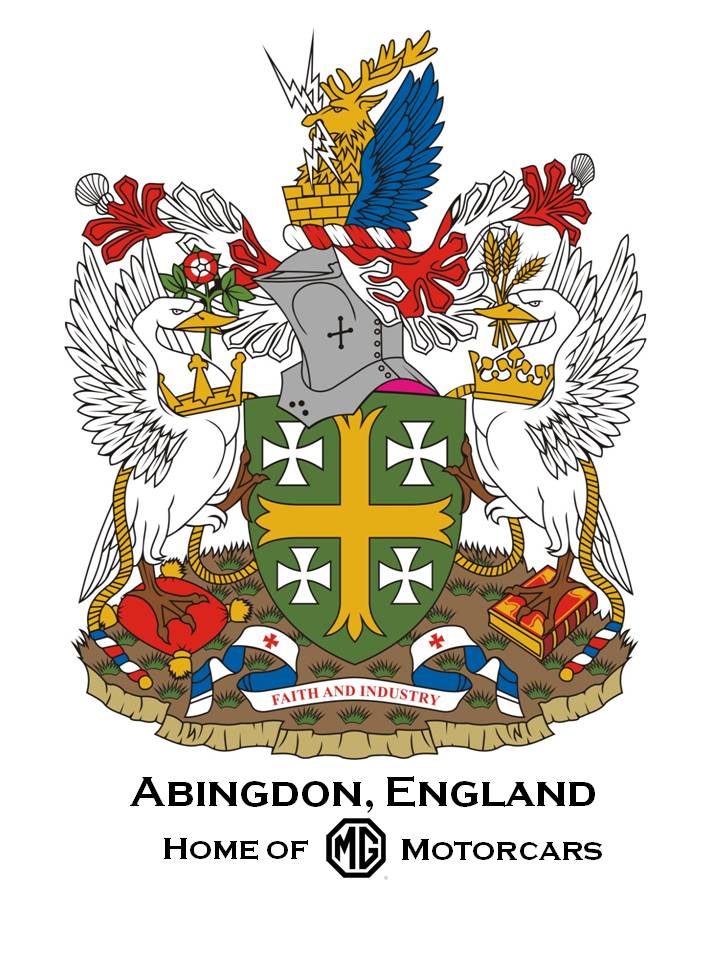 Some regalia items can be purchased from current stock at the monthly club meetings or a tech session. If you see something you want on the list below, contact David Kinsey and he'll bring to an upcoming meeting.
36 - 30 Year Plates - painted metal with adhesive back, 1973-2003
84 - Dipstick on CD, 1973-2008
10 - Club scrapbook on CD, 1991-2002
For other, more general, MG regalia, such as belt buckles, pins, clothing, jewelry, etc., we suggest you look at the Moss Motors catalog. There are others, of course, but Moss has a warehouse in Petersburg, VA (just South of Richmond) and most items will arrive in a day for not very much shipping cost. See – www.mossmotors.com
For some more interesting and specialized items, you might try the wonderful MG Owners Club in the UK - http://www.mgownersclub.co.uk/mgoc-regalia-shopping They also have a link to some parts ("Spares") you might not be able to find in the U.S.
Again, if enough pre-paid folks are interested in specific items (coffee or beer mugs, lapel pins, screened t-shirts, etc.), we can do a bulk order from any of these vendors.
Also, if you have an MG item you'd like to donate to the monthly raffle, bring it along!